The Makeup Bag Bundle
$

108.75
Regular price
$

128.85
Save 16% with this bundle!
Includes 30-Tuck Kit & Bra Buds
🔒 DISCREET BILLING & SHIPPING 📦
Discover the ultimate confidence bundle that seamlessly combines Tuck Kit and Bra Buds. Made in an FDA-registered facility, Tuck Kit is your all-in-one, swim, gym, and life-proof solution. Its ultra-breathable pre-cut rayon & cotton lets you wear your favorite feminine styles—from lingerie to leggings—without a gaff or bulge, and even helps manage unwanted erections if applied while flaccid.

Pair that with Bra Buds, the implant-grade silicone inserts specially designed for trans women. Add up to two cup sizes of real-feel confidence in any outfit, whether it's dresses, bikinis, or sports bras.

Elevate your self-assurance, love your reflection, and live your Trans Joy. Get both products PLUS a Makeup Bag in this exclusive bundle and enjoy 16% off. Now, with or without HRT, embrace a gender-affirming silhouette and life-proof comfort all day, every day.
Confidently & Securely Express Yourself

Guaranteed Swim-Proof & Gym-Proof. Tuck Kit is the only tucking tape product that lasts 4 hours underwater or while exercising, or up to 12 hours when dry. Be ready for beach and pool Gender Euphoria in your bikini or one-piece bathing suit! Tuck Kit even stays tucked up to 2 hours while in a hot tub 

Comfort That Lasts Hours

Breathable and stretchable fabric contours to your body, and then stays for up to 10 hours

Sensitive Skin Approved

Strong but gentle pain-free adhesive is specially formulated to stay in place while also allowing for ouch-free removal. It's pressure sensitive, so it stays perfectly in place once you press it to your skin 

Exercise-Proof Tuck

One strip is all you need, even during swim, yoga, weightlifting, or squats!

Bathroom Breaks

Protect your sensitive skin with included sterile non-stick cotton pads which allow for easy removal and re-tucking yourself after using the restroom, up to three times per wear. Simply pull down from the back section, and then pull back up to re-apply 

Easy, One-Size Fitting

Because of its patented taper and contour, Tuck Kit can be applied lower or higher on the front of the body to ensure a perfect fit. Happy Tuck Kit customers range from 120 lbs (54 kg) to 300 lbs (136 kg), and everywhere in between. All models are non-op.

Convenient On-The-Go

Each Tuck Kit pack comes with individually wrapped all-in-one Tuck Kits each including a T-Tape strip and a cotton pad. Easily fold one into a purse to bring a spare tuck with you on the go!

All-In-One

Every kit comes with individually packaged single-use T-Tape strips, sterile cotton pads, and an illustrated how-to guide

Specifications

T-Tape is 7.5 inches wide by 11.5 inches long and stretches 180% in length to 21 inches
Hypoallergenic & Latex free. Cotton & rayon blend
Designed in the USA. Patented: US Patent No. D972248S
Unclockable Bra Buds ™ with Implant-Grade Silicone – Created with medical-grade silicone, these bra inserts are soft to touch, resilient, odorless, hypoallergenic, latex-free, and comfortable. Not only are they durable, but they also warm to your body temperature, offering a jiggly, bouncy visual effect for a natural-looking enhancement. Ideal for trans femmes looking to fill out their bras, regardless of whether they're on HRT.

Goldilocks Sizing – Our Bra Buds™️ inserts fit "just right": wider, taller, and thicker than usual inserts, designed with a one-size approach to provide an easy start for trans women filling out their bras. They're straightforward to insert and remove, providing a secure fit that stays in place. If you find they don't fit, no problem! Return them hassle-free thanks to our Happiness Guarantee.

Gentle Comfort, Significant Lift – Bra Buds™️ are designed to be super gentle, making them ideal for those with breast growth sensitivity. Whether you're heading out for a special occasion or simply want to boost your everyday look, our silicone inserts can elevate your silhouette and boost your confidence by increasing your cup size, offering the feminine presence you've always desired.


Easy-to-Clean and Reusable – These bra inserts are easy to maintain. Simply wash with soap and water, and air dry. The included portable storage bag is durable and keeps Bra Buds clean and in top condition for long-term use.

Versatile way to Enhance Your Feminine Style – These versatile inserts can be worn with an array of outfits, including low-cut tops, dresses, wedding gowns, and swimsuits. If you're looking to add volume to your bust without surgery, or need a solution for uneven breasts, these gentle, invisible bra inserts are the perfect choice. Experience the transformation and embrace your femininity with Unclockable's Bra Buds™️.
Discover a simpler, stylish way to travel and organize your Tuck Kits and beauty essentials with our "Hello Beautiful" Multi-Purpose Plastic Makeup Bag. This imported bag's clear design allows you to quickly locate and access your beauty essentials, making packing and unpacking a breeze. This spacious bag measures 13.75 inches by 7.75 inches by 2 inches. And since its sides expand a bit, there's ample space for all your needs.

Featuring the cheerful message "Hello Beautiful" printed on its zipper closure, this bag adds a dose of positivity to your day. And remember, every purchase of a 30 Tuck Kit gets you this practical and delightful bag for free. 

Perfect for cosmetics and skincare, this bag effortlessly accommodates makeup palettes, lipsticks, mascara, cleansers, toners, moisturizers, and more. It's also ideally sized for wig storage, ensuring your wigs stay in excellent condition.

Key Features:

Clear plastic makeup bag
Dimensions: 13 3/4" x 7 3/4" x 2"
Ideal for cosmetics, skincare products, and wigs
Features "Hello Beautiful" text printed on zipper closure
Comes free with any 30 Tuck Kit purchase
Designed in NY. Made in China

Make travel and organization a stylish affair with our "Hello Beautiful" Multi-Purpose Plastic Makeup Bag. Your essentials are always visible and ready for action.
At Unclockable, we're not just passionate about our products - we're passionate about you, our amazing customers. We want to make sure you're 100% thrilled with your purchase, every single time

If something's not quite right, we're here to help! Just reach out to us at hello@unclockable.com. We promise to go the extra mile to make things right, whether that's through a swift replacement, exchange, or, if needed, a refund.

Please remember, our Happiness Guarantee is there for you up to 14 days from the date of delivery. After 14 days, we may not be able to offer a refund, but we're always here to find a solution that leaves a smile on your face.

Thank you for choosing Unclockable! Your happiness is our top priority.

Warm regards,

Mitch & Maddie
Packaging: A a plain envelope with no Unclockable logo or descriptive wording of any kind on the outside
Shipping Label: Shipping labels are addressed from UC Customer Service, with no mention of Unclockable anywhere. Your name will appear as you specified at checkout under shipping details
Billing: Orders made through our site will appear as "UC Customer Service" on your billing statement
We can ship to PO Boxes! This includes UPS Stores, FedEx stores or any other place that accepts packages that can be held for pickup
International Customers: Please note that the customs documentation will say "UC Fulfillment." The label will never say "Tuck Kit" anywhere on the outside of the package
Happiness Guaranteed
We put our customers first, with live chat support & a money-back guarantee. We care, and we'll always make it right
Fast & FREE Shipping & Returns
Enjoy free 3-6 Day Shipping on all continental US orders over $25. Change your mind? With free returns, send it back free of charge
Discreet Blling & Shipping
Ships in a plain box from "UC Customer Service". Billing statement shows "UC Customer Service"
Gender Euphoria
The Best Way To Stay Tucked
With Tuck Kit, stay securely & comfortably tucked flat for up to ten hours. Swim-proof, gym-proof, life-proof. Each single-use strip is designed for incredible comfort with a strong-but-gentle hold, and easy removal for as many as three bathroom breaks per wear. Stays in place through yoga, swim or other intense exercise. Hypoallergenic. Latex free. Designed in The USA. Seeing is believing.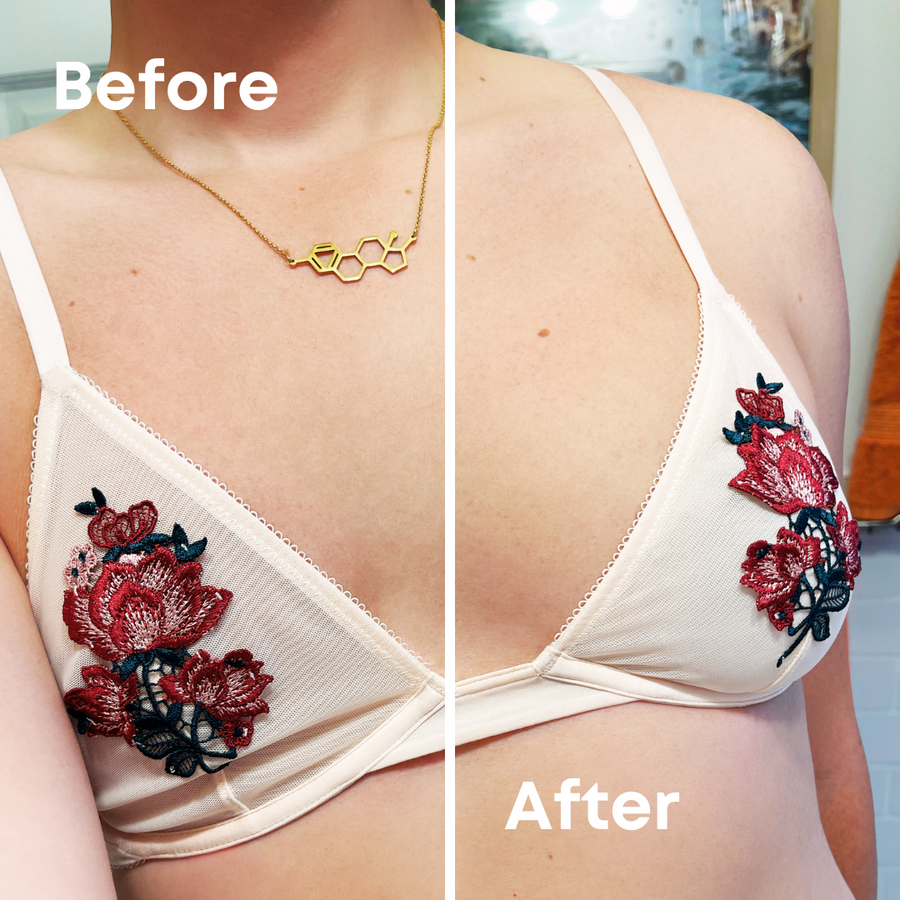 Designed for Trans Women
With Bra Buds, this bathroom selfie speaks for itself-ie
How it works
What's a Tuck Kit, and what's T-Tape?

Unclockable invented Tuck Kit, the all-in-one solution for achieving a flat tuck that stays tucked. It's the only swim-proof and gym-proof tucking product. That's all made possible by T-Tape, our patented tucking strips included in each Tuck Kit.
What about using the bathroom while tucked?

Tuck Kit is designed to be readily and painlessly removable 2-3 times per wear, for restroom use. To use the restroom, simply remove the back portion of the product, pulling down and forward, while being careful to hold it flat. Most find that they can peel and re-apply the back at least once before changing Tuck Kit out for a new one.
Will this hurt? Is it comfortable?

Tucking with Tuck Kit is pain-free, by design. We use a soft, sterile cotton pad and hypoallergenic acrylic adhesive— both are clinical grade, and super breathable. The result is a product that stays put, but also moves with you and will never tug harshly on the skin when removed.
Can I swim while tucked with Tuck Kit? Is it waterproof?

Yes! Our Tuck Kit keeps your parts private during swim. Even during intense lap swimming. You can swim with the product applied for up to 4 hours. Before swimming, make sure you've waited 20-30 minutes for the product to set against your skin. Before application, make sure your skin is towel-dried and clean of any oils, lotions, or creams.
Do I have to shave to use T-Tape?

Nope! But you may need to trim. Our product is tested to work well with up to 2mm of hair, which is about the thickness of two credit/debit cards stacked on top of one another. Of course, for the absolute best results and easiest removal, bald is beautiful.
I'm tucking for the first time. Will Tuck Kit work for me?

Yes! Whether it's your first time tucking, or you've been doing this for years, we've designed Tuck Kit to be easy, comfortable, and pain-free. Just follow the instructions in our Tuck Guide, go slow, and try on some Gender Euphoria! Happiness is guaranteed.
I have sensitive skin. Can I use T-Tape?

We designed Tuck Kit with sensitive skin in mind. It's 100% latex-free, and we use a hypoallergenic acrylic adhesive that's clinical grade and breathable. The product stays put, but also moves with you and wont tug harshly on the skin when removed. If you can use adhesive bandages, you can use T-Tape. That said, everyone's skin is different. We recommend you test T-Tape on a small patch of skin before applying in full.
How do I tuck with T-Tape?
Is T-Tape good for working out? Can I wear T-Tape at the gym, on a run, during yoga, or cycling?

Yes. Our Tuck Kit stays put. Thanks to its patented design and firm-but-gentle adhesive, it contours to your body, is designed not to chafe (ouch!) and moves with you. Whether it's running, cycling, yoga, skateboarding, aerial silks, or hang-gliding... whatever you do, our Tuck Kit is for you! Guaranteed.
How long and how often can I tuck?

How long or how often you tuck is up to you, and your individual goals. Our Tuck Kit can maintain a flat tuck for up to 10 hours, with 2-3 partial removals for bathroom breaks. We don't recommend tucking for more than 12 hours at a time or more than 4 days in a row. Product is not intended to be used overnight.
Are there any health concerns with tucking?

Yes. Tucking of any kind can affect your fertility. We do recommend that you talk to your doctor before starting a tucking regimen.
What is tucking?

"Tucking is a technique whereby an individual hides the crotch bulge of the penis and testicles so that they are not conspicuous through clothing. The practice is most commonly employed by transgender women in order to pass as cisgender female, as well as cisgender men that do drag." — Wikipedia
Orders & Shipping
Do you offer discreet shipping?

Yes! We take your privacy and safety seriously, and we guarantee discreet shipping on every order.

What to expect:

Packaging:  We ship all orders in one of the following ways: 1) a plain white or beige USPS Priority branded box with no Unclockable logos or descriptive wording on the outside or 2) a plain envelope with an Amazon logo also with no Unclockable logo or descriptive wording on the outside
Shipping Label: Shipping labels are addressed from UC Customer Service, with no mention of Unclockable anywhere. Your name will appear as you specified at checkout under shipping details
Billing: Orders made through our site will appear as "UC Customer Service" on your billing statement. There will be a phone number, by law, and calling that takes you to our Unclockable customer service line, so please be mindful of that
We can ship to PO Boxes, UPS Stores, FedEx stores or any other place that accepts packages that can be held for pickup
International Customers: Please note that the customs documentation will say "UC Fulfillment." The label will never say "Tuck Kit" anywhere on the outside of the package
How will this show up on my billing statement? Do you offer discreet payment?

Every order comes with Guaranteed Discreet Payment. Orders made through our site will appear as "UC Customer Service" on your credit card billing statement. There will be a phone number, by law, and calling that takes you to our Unclockable customer service line, so please be mindful of that.
How long will it take for my order to arrive?

It all depends how close you are to our fulfillment centers. It can take anywhere from 2-7 business days, from order to door. You can always find your tracking info by visiting the Shipping Confirmation email that we send when your order ships. Friends in Alaska, Hawaii and U.S. Territories: you may see shipment windows of 1-2 weeks. International order delivery windows vary by region, and we are making efforts to shorten our delivery times.
What is the option to pay in installments on Shop Pay?

When checking out we're proud to offer Shop Pay Installments! Buy today and pay in 4 or more payments starting at 0% APR.*

*Rates from 0-36% APR. Payment options through Shop Pay Installments are subject to an eligibility check and are provided by these lending partners: affirm.com/lenders.
Options depend on your purchase amount, and a down payment may be required. State notices to consumers https://www.affirm.com/licenses.

Do you ship internationally?

Yes! Rates are calculated at checkout.
Do you offer free shipping?

Yes! We are happy to offer Free Shipping on all continental US orders over $25c
What forms of payment do you accept?

We accept Visa, MasterCard, American Express, Discover, Apple Pay, PayPal, and Amazon Pay. We do not accept prepaid cards at this time.
How can I modify or cancel my order?

We try to ship orders as quick as possible, which means we might not catch your order in time to adjust or cancel it. You can always message us or shoot an email to help@unclockable.com. We'll do everything we can to help.
I had a typo in my email after I placed an order. . . Can you help me locate my order information?

No worries! Shoot us an email at help@unclockable.com or message us on chat. We'll get you taken care of.
What is your refund & replacement policy?

We offer a Happiness Guarantee on all of our products. If you're not satisfied with your purchase in the first 14 days for any reason, we'll provide a refund, not including the cost of shipping. If your order arrives damaged, take photos and contact us at help@unclockable.com for a complimentary replacement.
What if I make a return on a purchase made through Installments with Shop Pay?

If your refund amount is more than the amount remaining on your Shop Pay Installments balance, then you can expect to receive the difference as a refund to your original debit card or credit card payment method within 3 to 10 business days.

If your refund amount is less than the amount remaining on your Shop Pay Installments balance, then you can expect one or both of the following:

A smaller payment balance on the final payment
Less future payments on the remaining loan balance
Which payment methods are accepted if I use the option to pay Installments on Shop Pay?

The installments option on Shop Pay is available on debit and credit cards.
About our Company
How did you choose the name Unclockable?

Tucking is done for many reasons and they all come down to keeping parts private. Whether it's to ease discomfort, boost confidence in one's gender expression, for social reasons, or as performance art, the idea for those who choose to tuck is straightforward: out of sight, out of mind. We chose a name that acknowledges this and helps communicate the peace of mind our product offers.

For trans women, tucking can be a matter of personal safety. Concerns about "passing" or "being clocked" —a term which essentially means, standing out in an undesired way— can be a source of worry. Our hope is to inspire confidence for those who are concerned with "passing" (which not all trans women are.)
How are you different from other brands?

We don't just sell a roll of tape and ask our customers to figure it out. We invent on behalf of our customers. We're the only brand focused on trans personal care. Founded by a trans woman, we know the unique challenges trans women face in their daily lives. Tucking is often an ordeal and can even be painful if done improperly. Our patented tucking solution offers ease, comfort, and safety in an all-in-one product that's designed to make tucking less of a chore.
How can I try samples?

While we don't offer samples or trial packages, if you're not satisfied with your purchase for any reason in the first 14 days, we'll provide you with a full refund.
Do you have a subscription service?

We have discontinued our subscription offer. Existing customers can still pause, cancel, or edit anytime. Repeat customers can now save with our rewards program and free shipping in the continental US on orders over $25.
Where can I purchase your products? (other than this website)

The Unclockable Tuck Kit is available here on our website, as well as on Amazon.

You can also purchase Tuck Kits at the following international retailers:


- Patin-A-Shop (Germany)

- Labophyto (France)

- Urbasics (Canada)

- Venus Envy (Canada)

- Caya Co (Canada)
Get out there, and be you.
Swim-Proof Tuck
Swim-proof for up to 4 hours, so you can wear that bikini with confidence and a completely flat front view
Gym-Proof Tuck
Keep your parts private, even during yoga or intense exercise. It moves with you and stays in place
Bossgirl Confidence
Show up confident and ready for anything the day throws at you
You-Got-This Tuck
A secure, flat, gender-affirming tuck that you can wear under anything from flowy skirts to your favorite lingerie
Level-up Your Cosplay & Drag
Ditch the duct tape and stay comfy AND tucked through it all! Unclockable's got you covered, girl!
Special Occasion Ready
Make wardrobe worries a thing of the past: no matter what dress you're wearing or dance you're doing, there won't be any trouble with your tuck
Up to 10 Hours of Comfort
Proprietary Knit with super stretch
Natural Fibers of cotton and rayon
Moisture-wicking keeps you dry and comfortable
Breathable and Stretchable, contours to your body
Comfortably Stays for up to 10 hours
Hypoallergenic, latex-free & gentle adhesive backing
Thoughtfully made. For us, by us.
Hi! I'm Maddie. My father and I founded this company because we believe trans and queer people shouldn't have to compromise (or improvise!) when it comes to the products we use every day.
Tuck Kit is made in an FDA-Registered Facility. Tuck Kit is hygienic Trans personal care, Invented by a trans woman.
Our Story